Infinity One client: Connect Collaborate Chat Talk Announce Your Presence
All included for every user.
Leverage the power of your team by combining our powerful Mobility, Presence, Private Chat and Contact Centre solutions.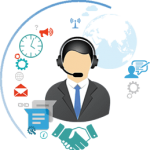 InfinityOne is the hub of all of your business communications. Everyone has access, and everyone communicates via private messaging, project rooms, file sharing, video, and advanced voice (because sometimes simply talking to someone gets the job done quicker).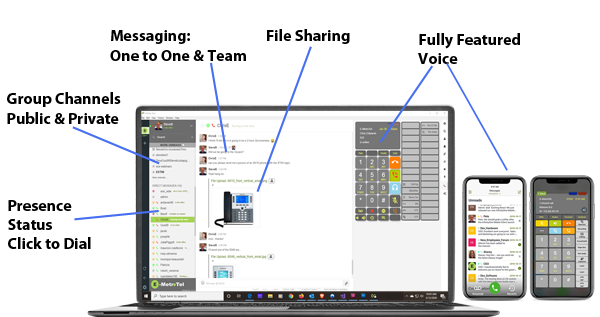 InfinityOne is your company message board. Everyone can post their ideas, thoughts, suggestions, or whatever needs to be said into easy to create rooms that can be as small as two people or as large as everyone in the organization.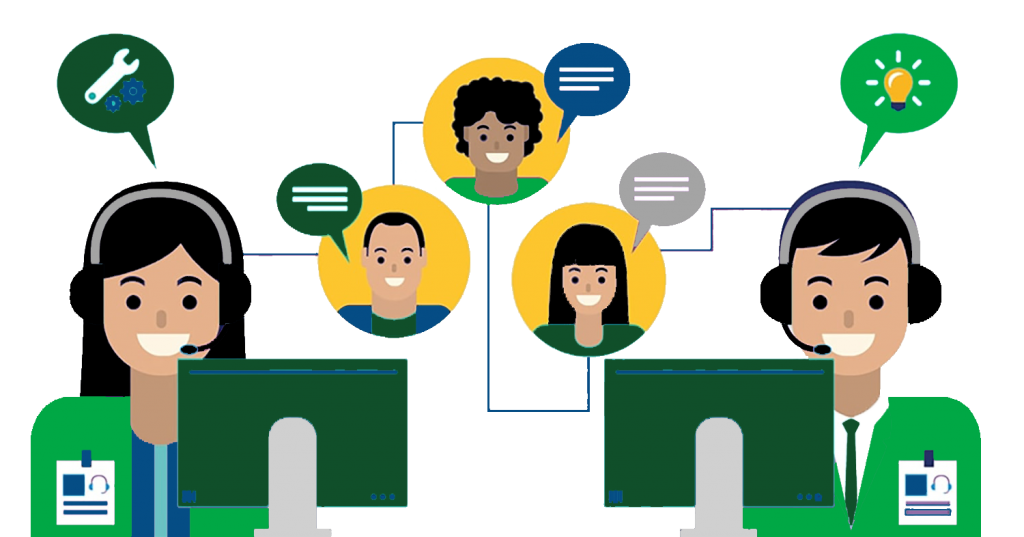 InfinityOne is your multi-person, multi-location, 24/7/365 conference room. Teams, work-mates, or the whole organization can get together from anywhere and share ideas, share thoughts, and share files in project or team rooms. And when needed, anyone or everyone can setup, initiate, and host voice conference calls with the sophisticated InfinityOne voice handling capabilities.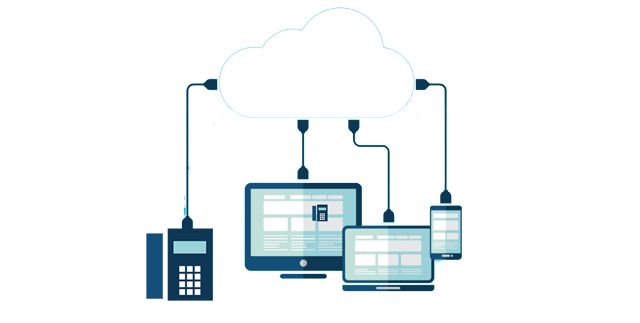 InfinityOne is your office watercooler. Along with helping you communicate to do serious business InfinityOne can also allow everyone in the office or organization to build and maintain personal relationships. From birthdays and anniversaries, to sports scores and current events, the ease of creating rooms to communicate allows everyone to catch-up and keep-up.
Why do you need a dedicated work at home solution separate from your office solution?
Disaster Recovery- When you deploy InfinityOne work from home you are also creating among other things a scalable disaster recovery scenario that is geographically apart from your main server. So if some unforeseen issue arises that stops communications at your main office location you are covered by InfinityOne in the cloud.
Security – If you use your main system for work at home you will need to open more holes in your firewall since every user will need to come through individually. With InfinityOne you only need a single access through the firewall for all users. This means greater security.
Scalability – If you deploy a work at home solution on your main system you will need to add more lines and bandwidth. With InfinityOne you can use the same single work at home solution for all of your locations.
Infinity One Chat – Provides an enterprise level messaging solution with presence, and a feature set comparable to other popular commercial offerings. All on your own private server. This allows you to keep your chat conversations secure and private.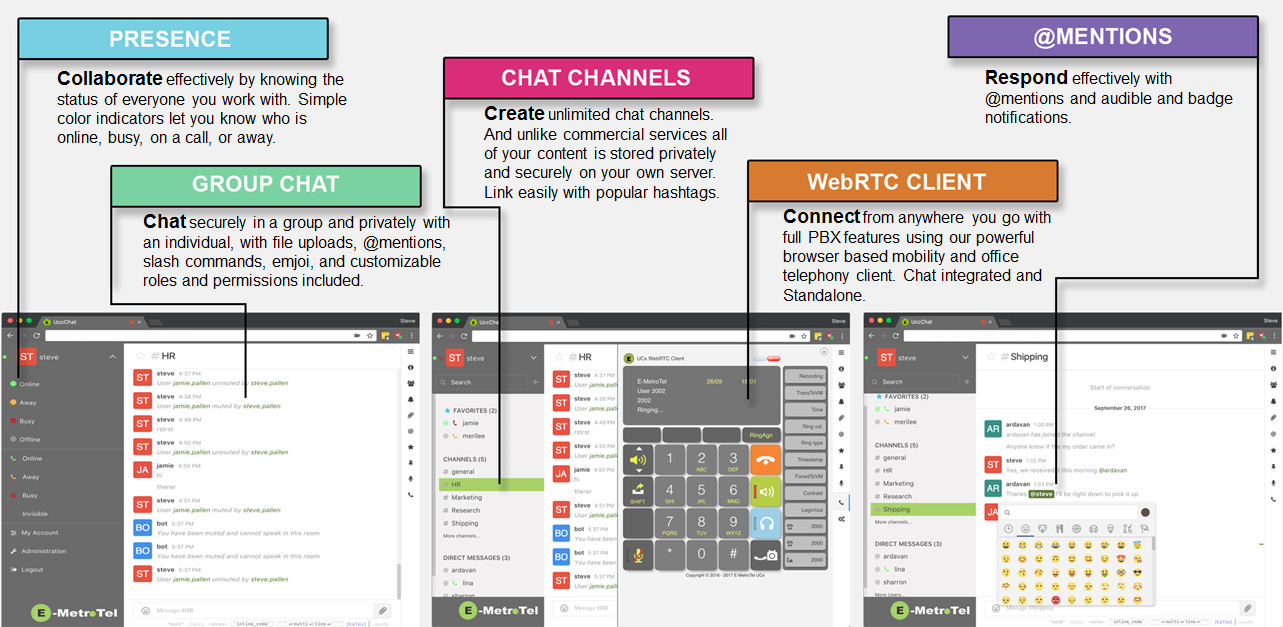 The Infinity One Chat feature set includes…
Multiple channel types (public, private, direct messaging)
Favorite channels
@mentions with audible and badge notifications
Messaging Presence with override)
Message editing, pinning, starring, deleting
30 slash commands (create room, invite user, …)
Autolink and preview urls
Drag and drop file update with image and video preview
Emoji support with picker
Message reactions
Unread message handling
Customizable Role and Permission system
Basic Bot experimental support
Code syntax highlighting
Profile editing and admin pages
Easy configuration
Peer to peer WebRTC Video
Peer to peer WebRTC Audio
Presence adapters for on-the-phone presence with the UCx
With More Coming
Email and SMS notifications
OTR (off the record) Conversations
Live chat feature
3rd party integration (web hooks, Rest API)
OAuth and LDAP
XMPP Integration
Internalization
UI theming
Infinity One WebRTC Mobility – Provides mobility and in-office communication. Stay connected with FULL FEATURED telephony from anywhere. Supports all UCX features and applications including Peer to Peer Video, Contact Centre and up to 120 programmable buttons. .
Platform And Device Choice
Use the WebRTC client on your PC, Laptop, Android Tablet, or your Android Mobile device.
And since the client is browser based with no software app to load you can log into WebRTC from ANY computer, laptop, tablet, or mobile device.